Google Pixel 7 & 7 Pro Rumors: Color, New Processor | What we know about Flagships
From the release date to a few possible specs, here's what we've listened about Google's another flagship phone 'Google Pixel 7 & 7 pro.
Even though Google I/O is a month away, Upcoming Google Pixel 7 phone likely won't get its reveal and launch until this fall, as per the precedent set with Pixel 6 and earlier models. Yet the event could include more details about Android 13, which likely will get its own reveal with that next line of Pixel phones, much like how Android 12 began its rollout first with the Pixel 6 series.
The Google Pixel 6 and Pixel 6 Pro won our hearts when Google dropped them back in October. Even though they're among the best Android phones you can buy, they aren't without their flaws. By swapping to its new Tensor custom chipset, the company was able to maximize performance for all sorts of AI-related features — seemingly at the cost of a whole slew of bugs and delayed updates.
But it's a brand new year, and with the experience of 2021's flagships under its belt, Google is ready to aim onwards and upwards with the Pixel 7 series. Here's everything we know about the phones so far.
For now we do know that the rumored Pixel 7 series will need to follow up the flashy launch of the Pixel 6, which shook up the design that the last five generations of Pixel phones otherwise held onto. Out went last year's midrange processor. In came Google's in-house Tensor chip. Out went the generic, tried-and-tested hardware design. In came a statement device with a signature camera bar running across the width of the chassis.
Google Pixel 7 Name, Release date and price rumors
Google previously called the larger device an XL model, such as the Pixel 4 XL and Pixel 3 XL. But it stands to reason that the company will follow in the footsteps of last year's Pixel 6 phones and call the new phones the Pixel 7 and Pixel 7 Pro.
Google's phone release schedule has proven fairly reliable over the past few years. Therefore without any more specific rumors to go off of, we'd bet on Google unveiling the Pixel 7 in October 2022, along with the Google Pixel Watch, at least according to one rumor. It's possible that it could launch earlier than that too, based on analyst Ross Young saying display parts for the Pixel 7 will ship a month earlier than the Pixel 6's did in 2021.
Pixel 7 series renders leaked very early compared to the Pixel 6 series (February versus May) though. That probably doesn't mean anything, but it could theoretically be indicative of an earlier launch timeline. If we were to place our bets, we'd say that September/October is still the launch window.
As for cost, we really hope Google keeps the pricing low like it has for the Pixel 6 series. With the Pixel 6 at $699/£599 and the Pixel 6 Pro at $899/£849, these two phones undercut their flagship rivals by hundreds of dollars or pounds. Google will tempt a lot of users away from other Android brands if it can offer the next generation of Pixels at a similar level.
Google Pixel 7 series: Hardware
Last year, Google swung big with its design for the Pixel 6, giving the series a complete overhaul. From the controversial under-display fingerprint sensor — a first for the series — to the massive camera bar on the back of the phone, it seems like the company has finally cemented a new design for its in-house smartphones. Perhaps unsurprisingly, early leaks indicate Google isn't planning on changing much in the looks department, keeping a similar build for another year
We've seen renders of both the Pixel 7 and Pixel 7 Pro, and comparing them to their predecessors is like playing a game of spot the difference. It's possible the smaller device may get a reduction in screen size — down to 6.3″ from 6.4″ — while the larger phone stays exactly the same. The camera bar is receiving a slight makeover, with the edges now flush with the band of the smartphone.
This change removes an odd edge from the Pixel 6, appearing a little more reminiscent of Samsung's camera bump on its recent flagships. It also looks like the sensors are much larger, though it's possible the final product will disguise these lenses a bit more than what's seen in renders.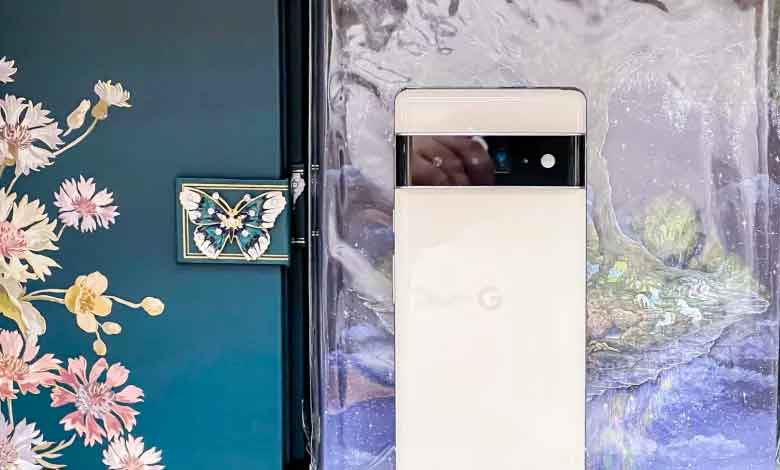 Meanwhile, the mmWave window along the tops of both models has been redesigned. On the Pixel 6 Pro — and specific carrier versions of the smaller Pixel 6 — it was a rather unsightly transparent window that clashed with the back of the phone. On the Pixel 7, we're looking at a much cleaner, smaller window built into the metal rail of each model. It's unclear if every Pixel model this year will support mmWave, or if the cheaper, smaller device will depend on carrier intervention. Whatever the case, it's good to see some improvements in its implementation.
Google Pixel 7 series: Software
Google's annual Pixel launch has often served as the perfect time for a major Android update to roll out to users, but it's unclear if that'll happen this year. We're still early into public previews for Android 13, but the dev timeline appears to suggest an earlier release date than usual this year.
It wouldn't be the first time Google has launched an update in the summer. Android 8.0 Oreo's announcement was timed perfectly to a solar eclipse in August 2018, launching just a few days later.
Whether or not Android 13 arrives alongside the Pixel 7 doesn't really matter to prospective buyers, of course. One way or another, these phones will absolutely come running the latest and greatest OS version when they arrive on store shelves.
Android 12 brought along a huge redesign with Material You, so we don't expect many visual changes with this year's update. That said, you never know what might pop up in future betas — especially after I/O later this spring.
Google Pixel 7 rumors
Google is apparently working on a second-generation Tensor chipset; a follow-up to the first-gen Tensor found within the Pixel 6 and Pixel 6 Pro. Updating the chip in the Pixel 7 is an obvious change to make from the Pixel 6, but unfortunately at the moment there's no sign of what Google would alter, apart from the usual improvements to processing power and energy efficiency that chipsets aim for every year.
Building on that, 9to5Google has uncovered evidence that links a new second-gen Tensor chipset to two new Pixel devices, which it believes to be the Pixel 7 and Pixel 7 Pro. According to the site's source, the chipset has the model name 'GS201' and is linked to an unreleased Samsung modem with the model number 'g5300b'. This new modem is in turn linked to two devices with the codenames Cheetah and Panther — which 9to5Google believes to be the Pixel 7 and Pixel 7 Pro respectively.
This is only a patent, and so it could still be some years away from being ready to use, if it materializes at all. However it would make for a great centerpiece feature for a future Pixel.
A new rumor suggests that Google won't change the Pixel 7's cameras from those found on the Pixel 6. This sort of makes sense given the Pixel 6 changed pretty much everything from the Pixel 5, but we hope we'll still see some updates and improvements all the same.
Google Pixel 7 design
When we first saw Google Pixel 7 renders have been leaked by David "xLeaks7" Kowalski, we thought they could actually be for the rumored Google Pixel 6a because the dimensions pointed to a smaller display than the current Pixel 6. However it does look like Google may indeed be shrinking the Pixel 7 down a bit, to 6.3 inches according to Ross Young, from 6.4 inches on the Pixel 6. The Pixel 7 Pro will apparently be the same size as the Pixel 6 Pro though, measuring 6.7 inches.
Renders for the Pixel 7 and Pixel 7 Pro from OnLeaks show two familiar phones. The design is similar to the Pixel 6, but there are some subtle differences. These include an invisible punch hole in the front, which could point to an under-display camera, and oval cutout for the main/ultrawide cameras housed within the camera bar.
For colors, the base Pixel 7 has been rumored to come in black, white, coral and blue. No leaks have detailed which colors the Pixel 7 Pro will be offered in, but if these renders are anything to go by, a sky blue option would suit the Pro phone nicely.
It looks like this design language will be carried forward to the Pixel 7 series, as leaked renders show a similar aesthetic for the new phones. That means we could be getting a distinctive camera visor as well as a center-mounted punch-hole cutout for the front.
Specs and features
We haven't heard much about the Pixel 7 line's specs, but 9to5Google previously reported that the phones will be equipped with what could be a second-generation Tensor processor (code-named GS201). The chipset is also said to arrive with an unreleased Samsung Exynos 5300 modem.
There's also been speculation that Google could adopt an AMD GPU. After all, the Google Tensor SoC is essentially a semi-custom version of Samsung's Exynos silicon, and the latest Exynos chipset comes with AMD graphics. This is only speculation though, and we're not sure whether the AMD/Samsung deal applies to semi-custom chips for the likes of Google.
So what would the second-generation Tensor SoC look like? We're not sure at this point, but the original Tensor shipped with an octa-core CPU (two Cortex-X1, two Cortex-A76, four Cortex-A55), a Mali-G78 MP20 GPU, and Tensor machine learning silicon. If Google is aiming for a similar approach in 2022, then we're likely looking at an Armv9 CPU setup (Cortex-X2, Cortex-A710, Cortex-A510), a Mali-G710 GPU, and improved Tensor AI hardware.
There's no word on battery size for the Pixel 7 series, but the 2021 flagships both gave us some large batteries. We're guessing that the standard Pixel 7 could see a slight capacity decrease if it is indeed slightly smaller than the Pixel 6. We also previously discovered that the Pixel 6 phones offered much slower charging than implied, so we hope the new phones address this.
Google promoted machine learning in a big way with the Pixel 6 series, offering features like speedy offline voice dictation, Magic Eraser functionality, and face unblurring for photos. It seems like a safe bet that the company will expand on-device machine learning smarts with the Pixel 7 series, likely targeting natural language processing and camera features once again.
Google Pixel 7: what we want to see in this series
Keep the price
Probably our top wish for the Pixel 7 series is that Google keeps the pricing it used for the Pixel 6 series. The vanilla Pixel 6 started at a very alluring $600, besting the Gal
Galaxy S21 FE by $100, and you still got a lot of phone for the price. The Pixel 6 Pro started at $900, which would actually be a good deal if the Pixel 6 didn't exist.
So we'd like to see Google offer the same pricing for the Pixel 7 and Pixel 7 Pro respectively, as there's no doubt that the company found a sweet spot (particularly for the vanilla model). Even the Pixel 7 Pro wouldn't be a bad deal at $900.
Another camera on the base Pixel 6
Google has arguably short-changed the Pixel 6 by only giving it two rear cameras. It's the same amount that the Pixel 5 and the Pixel 4 had, and also what the base iPhone 13 and iPhone 13 mini offer, but it's still disappointing given some premium phones are now offering up to four cameras plus a depth sensor (such as the Samsung Galaxy S21 Ultra).
The obvious choice for a third camera on the base Pixel 7 would be a telephoto lens, even if its magnification wouldn't match the 4x optical zoom of the Pro model. A depth camera for more accurate portrait shots and improved AR performance, or a dedicated macro camera for super close-up shots, could also make for a good addition.
Speed up the charging times
We discovered late last year that the Pixel 6 series charged much slower than Google actually stated. Google claimed that the phones topped up at 30W in its review guide, but our testing led to the company admitting that the phones topped out at 21W and 23W.
Still, the phones charged incredibly slowly even compared to Samsung's 25W charging solution. We therefore want to see Google speed up charging times, be it by staying at a high wattage for longer or by supporting a much higher wattage. Because two-hour charging times are ridiculous in 2022.
Stop with the buggy software
Needless to say, Google needs to pull its socks up for the Pixel 7 series in this regard. Whether it improves matters by devoting more resources to software releases or hiring more testers, it needs to take concrete steps to ensure this doesn't happen again.
Google's Pixels have a pretty shady reputation for bugs, and the Pixel 6 series is no exception. Some of the complaints we've seen in recent months include Wi-Fi being broken, drastically reduced signal strength, and the device making calls out of nowhere. Those are some major issues.
Google isn't the only company to struggle with software polish, as OnePlus has also struggled in recent years. But you don't really expect many major bugs from the Android platform-holder in the first place.
Fix the fingerprint scanner
The Pixel 6 series also marked the first time that Google used an in-display fingerprint sensor on its phones, after years of using a rear fingerprint scanner. Unfortunately, the in-display scanner turned out to be one of the biggest annoyances.
Faster, more reliable biometrics should therefore be a priority for the Pixel 7 series in 2022. There are several options on the table in theory, such as an ultrasonic fingerprint scanner or introducing more software optimizations. Either way, Google should consider all the options.
We thought the Pixel 6 and Pixel 6 Pro's in-display fingerprint sensors were too slow and unreliable for our liking. Google went so far as to initially claim that the scanners were slower due to "enhanced" security algorithms, subsequently issuing an update to speed things up.
Bring more Pro-exclusive features
The Pixel 6 Pro was a good deal on its own at $900, it must be said. But the Pixel 6 definitely made it look bad at $600. This wasn't helped by the Pro model offering only a few extra features over the standard variant.
We got a 120Hz QHD+ screen versus 90Hz FHD+, the addition of a periscope camera, and a slightly bigger battery. These were all great to have, but does that equate to $300 worth of extra features? We didn't think so in our reviews.
Google could up the ante even more here on the Pixel 7 Pro, offering faster wired and wireless charging speeds, more base storage, and/or an improved ultrawide camera. It could also theoretically cut the price of the Pixel 7 Pro a little bit if things stayed the same.
An alert slider
For iPhone users (and to a lesser extent OnePlus owners), the alert slider is a critical feature of the phone. It is an effective way to quickly enable or disable notification sounds without needing to unlock the phone or even turn on the screen.
We've never seen an alert slider on a Pixel phone before, and given it's only really used by Apple and OnePlus phones, it seems unlikely Google's going to change its mind. However we stand by the idea that this would make a great addition to the Pixel 7.
Better and brighter displays for all models
There are a couple of ways Google could improve the displays of the Pixel 7 series. First off: brightness. Google has fitted the Pixel 6 and Pixel 6 Pro with surprisingly dim displays, even when set at maximum brightness in direct light. Being unable to see your smartphone's display properly is inarguably a bad thing, so if Google could crank up the brightness of the Pixel 7's display a few hundred more nits, that would be one of the Pixel 6 series' worst areas fixed.
The other potential area of improvement would be the specs of the standard Pixel 7 model's screen. While the Pixel 6 Pro offers 120Hz, the standard Pixel 6 only offers 90Hz. That's better than the 60Hz that used to be all you'd get from a smartphone, but given that phones cheaper than the Pixel 6 can offer 120Hz — look at the Samsung Galaxy A52 5G or the Redmi Note 10 Pro — we'd like to see Google do it too. Upping the Pixel 6's FHD resolution to QHD like the Pro would also be beneficial but isn't as big a deal.
Pixel 7 renders
(Image credit: OnLeaks x @Carhpus)
Pixel 7 Pro renders
As you can see, there isn't much of a difference between the apparent Pixel 7 series renders above and the Pixel 6 duo. But prominent display industry analyst and insider Ross Young recently claimed that while the Pixel 7 Pro won't see any screen size changes, the standard model will go from 6.4 inches to a slightly smaller 6.3 inches.
For what it's worth, the devices are said to measure in at 155.6 x 73.1 x 8.7mm for the Pixel 7 (making it slightly shorter and a little wider than the Pixel 6) and 163 x 76.6 x 8.7mm for the Pixel 7 Pro.
What we'd like to see in the Google Pixel 7?
With so little actually known about the Pixel 7, we can take this chance to bring our begging bowls to Google and ask for a little more than we received with the Pixel 6.
The potential absence of a third camera in the standard Pixel 7 does seem a bit of an oversight when competing against the triple and even quad camera configurations of other phones in this price point, so we'd hope that Google could up the ante a little with the new model.
One of the main refinements we'd like to see is a reduction in the bulk of the Pixel 6. At 207g it is a hefty beast, so a lowering of the weight would make the whole experience a more pleasant one for the user.
In our Google Pixel 6 review, we found the battery life to be very good, with the only real downside being the slow 30W charging capabilities, which in fact rarely even hits those speeds. This could do with being bumped up to the kind of speeds often found in Chinese devices across the board, which can see a 0 to 100% recharge in less than 30 minutes.
The Pixel 6 and 6 Pro marked an excellent re-interpretation of a pure Google smartphone, so we're excited to see what will happen when the new versions land in 2022. We'll keep updating this article as more news becomes available, so be sure to check back regularly. Until then, you can read our latest Tech reviews, gadgets, smartwatches, fitness, and entertainment news on TopBugz.
Related Post